LOGISTIC HELPS YOU REALISE YOUR BUSINESS GOALS
"Going Global & Managing the Process"
AK Unicargo International Pty Ltd is a privately owned Australian Company established in 1990 with a strong professional network of strategic partners around the globe to provide importers and exporters with both professional and personal solutions for their Air freight, Sea freight, Customs clearance services. Understanding the unforgiving deadlines importers and exporters need to meet. The team will ensure streamlined processes are implemented to secure a speedy delivery of goods.
The target groups of AK Unicargo are those customers for which the standard service of the common forwarding Agents, Airlines and Integrators is not sufficient. We seek to distinguish ourselves by providing the most possible flexibility and reliability in customer service. Our global agency network enables clients to benefit from a package tailored to their individual needs and time requirements.
AK Unicargo provides service all over the Australia & New Zealand

"Timing is Everything & Elimination of Guesswork "
Timing is Everything Where time is of essence for certain shipments, airfreight is the natural choice. Our highly skilled employees care about your merchandise as much as you do. Processing and overseeing each detail of every stage, so your merchandise arrives safely and as quickly as possible. That includes processing all the administration work, handling and documentation before and after the flight in accordance with the IATA / ICAO regulations. We know that customer success and satisfaction stems not only from our solutions, but also from our staff. Our commercial service team includes international business experts who have in-depth knowledge of global trade as well as our solutions. They are highly trained and experienced in industry standard methodologies. Elimination of Guesswork To monitor the exact progress of your merchandise through each step, you'll appreciate our global data processing and sophisticated communication network. These AK Unicargo systems have been designed to make the entire process totally transparent. That way you can make decisions based on real facts and real time. Knowing exactly where your merchandise is- anywhere, at any time will eliminate the guesswork on your part. Air Cargo Charters At AK Unicargo, we understand that the punctual, safe and cost-effective delivery of all your air cargo consignments is a fundamental aim of any freight organization. Whatever your shipment, urgent, high value or outsize cargo, our commitment to you is to provide the best solution for all your cargo aircraft chartering needs ranging from Full to Split Charter-flights. Our comprehensive database of all types of aircraft is constantly updated with current locations and availability. Using this knowledge, we aim to provide our clients with the right aircraft at the right time and at the best price to meet all your freight requirements. The benefits to you: – We provide a 24 hour, 365 days a year service, ensuring a total commitment to our customers. – Our expert knowledge combined with our comprehensive freight aircraft database means you get the optimum solution to all your freight requirements. – Our staff has extensive operational experience and is able to provide effective support and advice at every stage of the operation.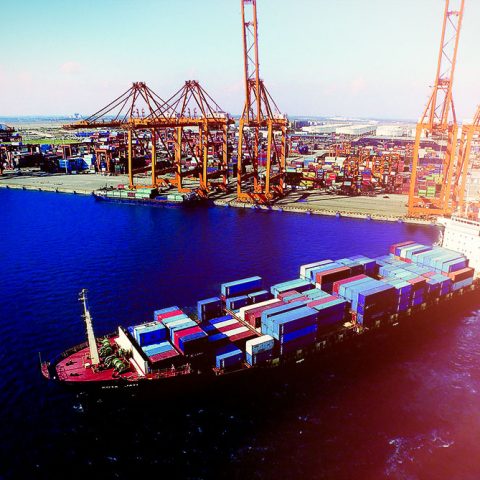 Import/Export Sea freight is an eminent feature among the services offered by AK Unicargo. Our network of agents and logistics partners worldwide enable our clients to benefit from a package tailored to their individual needs and time requirements. We excel in facilitating our clients with the following Sea freight services: – Worldwide export consolidation services. · Import de-consolidation services. · Handling FCL's / LCL's shipments to worldwide destinations. FCL: If a shipper / importer has enough cargo to make either a 20ft or 40ft container cost- effective, the product is sold at a container rate. The customer pays an agreed price for the container, it is then totally at his discretion as to how much cargo is placed inside the container- the more tonnage placed inside the container the lower the unit price. LCL: This is the same type of product, as the consolidation service on airfreight where there is not enough cargo for the shippers needs to warrant paying for a 20ft container. So space is sold at the applicable weight / measure price to and from the major ports throughout the world-this is effectively a groupage service. Shipping Lines As we work with all shipping lines, a detailed schedule of services can be provided which highlights the frequency, transit time and real freight costs as they do vary considerably for different lines within the same trade route.
Going Global- A Growing Trend Global sourcing is becoming increasingly popular as a way of accessing new opportunities and strengthening your competitive edge. It is common practice for companies to develop a product in the U.S.A, manufacture it in Japan and sell it in Europe. This means that merchandise will often make a longer and perhaps more complicated journey from its source to the final destination- from concept to consumption. Managing The Process AK Unicargo chain management services are designed to ensure that each step of your logistics chain is carefully coordinated and managed. Our staff is comprised of professionals who are committed to securing the process so as to meet your requirements. Given our network of agents and logistics partners around the globe, we are in a position to support your buying, selling and logistics processes anywhere in the world. Linking Up With You In order to better understand your specific needs and expectations, we work closely together with you. We begin by designating a dedicated client team with the exclusive task of examining each step in your logistics chain. Their job is to understand the nature of your business and assist in optimizing your logistics processes. Working in conjunction with you, the client team will develop, implement and maintain standard operating procedures that will suit your specific needs, thus becoming the fundamental document upon which we will operate your logistics chain.
We are here for you to help you and reply!
Unit 2, 25 Ossary Street, Mascot, NSW 2020
MON-FRI: 9am – 5pm